The Requirements
To be a good fit for this opportunity you will have:
A bachelor's degree in engineering, preferably chemical, or a similar degree in a scientific field
Three or more years of experience in a manufacturing environment within the chemical, agrochemical, food ingredient or pharma ingredient sectors
Strong analytical skills with the ability to determine actionable projects that achieve results
Experience working on sustainability analyses and initiatives (ideally including life cycle analysis and value mapping) Quick question for you - click here
A demonstrated ability to employ analytical, communication and teamwork skills to influence direction across a global organization
Demonstrated success managing multiple projects to meet overarching objectives
The ability to use a variety of computer software and tools; experience with life cycle analysis software is preferred
You will travel 25-40% of your time, both domestic and international.
The Role
This position drives improvement in FMC's sustainability performance to adapt to market transitions by providing technical analysis and guidance to the established Sustainability Implementation Teams within each division, function and region. You'll be working to help us position ourselves as the life cycle analysis of products becomes increasingly important throughout all markets and supply chains.
Quick question for you - click here

On a day-to-day basis you'll be collaborating with operating site Leadership Teams, R&D Teams, and Sales & Marketing Teams within each business as well as with FMC's central Engineering Team. Most of your time will be spent working with these groups to prioritize and progress our efforts in manufacturing efficiency, new product development, and market communications.
You'll also serve as a support role to all businesses for the execution of key sustainability projects and during customer or stakeholder sustainability audits. You'll need to carefully prioritize to determine where we're getting the most value as there are many areas that need to be addressed over time. This role offers a good mix of strategic thinking and hands-on analysis.
Some of your specific responsibilities will be to:
Create and maintain Life Cycle Analyses (LCA) for all major FMC products
Maintain the materials database
Serve as a member of small "Center of Excellence" teams promoting energy, water and waste management best practices
Assist technical teams in evaluation of product and process development alternatives
Assist marketing teams with the creation of value propositions based on LCA
Employ tools such as value mapping to identify opportunities for cost reduction
Monitor industry best practices in resource efficiency and sustainability analyses, and identify where FMC can make improvements
Monitor industry best practices in sustainability analyses
Respond to customer and other stakeholder audits as necessary
Note: this description is intended to give you a general overview of the position and is not an exhaustive listing of duties and responsibilities.
Why FMC

High impact
-- in this new role you'll have the chance to drive the ideas and strategy that result in new products that meet shifting market demands and new operations practices that help the company to remain competitive into the future. You'll put your fingerprints on many areas of the organization in an exciting and positive way.
Great resources
-- you'll be working with strong teams who are excellent at what they do, and whom you can reach out to for help on a day-to-day basis. Working for FMC gives you the backing of a large company that will provide you with the tools you need to do your job well.
Professional Development
-- you will have a number of training and development opportunities to help you expand your knowledge and grow professionally. The role will give you insight to many areas of the business, and could be a springboard to creating a great career here. Prove yourself, and from this role you could progress your career in sales and marketing, R&D, operations, corporate support staff, or other desired career paths.
Strong company performance
-- our senior leadership recently unveiled a growth plan for FMC known as Vision 2015. Below are some recent FMC Corporation second quarter 2012 Results:
Sales of $905.2 million, up 11 percent from the prior-year period
Adjusted earnings of $0.92 per diluted share, up 20 percent from the prior-year period
Excellent compensation
-- in addition to a competitive salary we offer comprehensive benefits that include all you would expect, such as retirement savings and 401(k) plans, flexible spending accounts, tuition reimbursement, and more. Benefits take effect on your first day of employment.
Keys to Success
To excel in this role, you'll need to have a strong background in manufacturing to demonstrate credibility with the operations and marketing teams, and to be able to understand and interpret R&D. Working with these diverse teams will require that you call on your strong communication ability, and that you are willing to work among groups with different interests.

Success in this role will require recommendations to do things differently, so you'll need to have passion for finding improvements and the desire to innovate. If you desire to make a true impact in a manufacturing organization, then we want to hear from you!
About FMC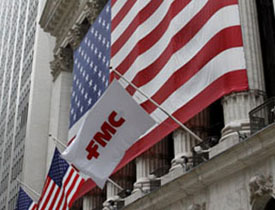 FMC Corporation is committed to providing employees with ample opportunities to contribute, lead and be recognized as innovators, to look beyond barriers to provide solutions, to be challenged in what they do and to love doing it. FMC is an S&P 500, diversified chemical company serving agricultural, industrial and consumer markets globally for more than a century. As a global leader utilizing advanced technologies and customer-focused research and development, FMC provides innovative and cost-effective solutions to food, agriculture, pharmaceutical, specialty and related industries.
FMC employs people across a broad range of occupations in locations across the world. We are looking for people to join us in creating, developing, and improving our products, our processes, and our markets. Employees enjoy competitive compensation, a menu of work/life benefits and opportunities to continue developing their skills and building their career.
FMC is an Equal Opportunity Employer, EEO, AAE, MFDV and supports a drug free workplace.